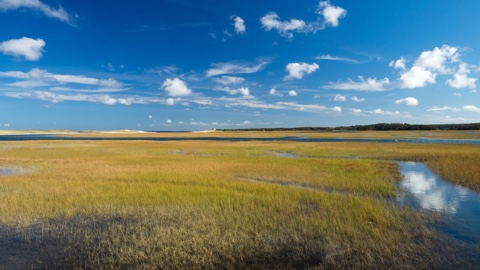 The 102nd Intelligence Wing at the Otis Air National Guard Base in Sandwich, MA will be conducting a ceremony later this month to mark the opening of the installation's newly completed, energy independent, microgrid system. The Otis Microgrid will completely transform how the base manages and utilizes energy and is expected to serve as a model for grid modernization projects in the future. The project team is led by Maj. Shawn Doyle of the 102nd Civil Engineer Squadron.
The Otis Microgrid project will provide electrical capabilities almost exclusively based on renewable energy while ensuring a high-level of grid security. It will provide operational resiliency for 102nd Intelligence Wing mission as it can operate if the commercial network fails, increase the base's value to the NGB, state and Federal Governments, allow the base to reduce its energy costs, attract investment in Otis infrastructure via OPM, reduce generator emissions and logistics, enable joint military training (Air National Guard / Army Reserves), and create a national energy research platform.
In a summit meeting held in 2016, Maj. Doyle said, "There is an atmosphere, a culture here at the base, of energy awareness – we've done almost 3 million dollars of energy infrastructure upgrades on the base – largely they've been funded by other organizations, like the National Guard, so they haven't cost us anything but are saving us hundreds of thousands of dollars in energy costs."
The microgrid was funded by a $6 million grant from the Defense Department's Environmental Security Technology Certification Program. ESTCP is the DoD's technology demonstration and validation program which was established in 1995 to improve environmental performance throughout the DOD, reducing costs, and enhancing and sustaining mission capabilities.