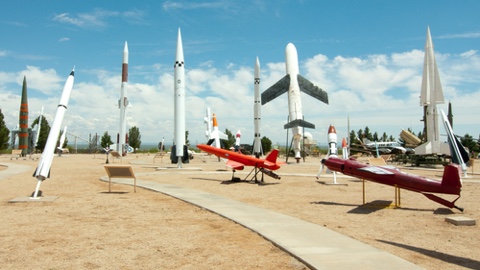 A number of companies are currently working to develop a laser-light-based electric recharging system for drones under a two-year, $2.2 million contract with the Defense Advanced Research Projects Agency (DARPA).
Silent Falcon – which makes solar-powered drones for military and civilian applications – is modifying its aircraft as a test bed for the system.
SolAero – which builds solar cells and panels for spacecraft – is developing a new type of photovoltaics to convert laser light into electricity.
Ohio-based laser-system fabricator Optonicus LLC is developing a ground-based beam transmitter to shoot laser light at drones overhead; and Ascent Solar Technologies is working on next-generation thin-film PV that could be used in the system.
"Both SolAero and Ascent are making new, specialized panels that will be sensitive to the frequency of laser light beams coming from the ground laser system," Silent Falcon CEO John Brown said. "We'll try out each of their panel systems to see which one works best."
The PV panels will be mounted on the tail of the Silent Falcon, which is designed for long-duration flights. It will be tested at White Sands Missile Range in late fall or early January.
SolAero is building a new transducer to convert laser light, rather than sunlight, into electricity.
"It's a new technology for us," SolAero business development director Ken Steele, said. "These are different wavelengths of light and intensity spectrum. There are challenges in capturing a laser beam of power rather than sunlight and converting it to electricity for routing into the Silent Falcon power system."
 Optonicus will build a tracking and acquisition system to pinpoint the laser beam onto the drone-mounted PV panels. It's expected that the new technology will be capable of shooting beams at drones up to 30 miles (~ 48 kms.) away, eventually paving the way for indefinitely long flight times. If successful, it also could have commercial applications.
"It could boost PV systems that rely on solar power when the sun is not shining," Steele said. "We could potentially use a transceiver with lasers in the civil and commercial fields."