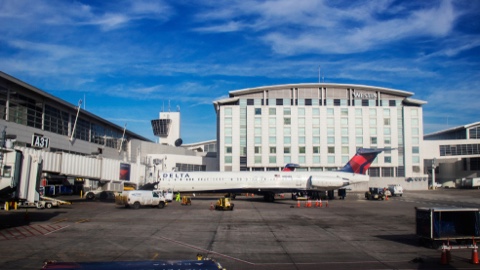 Delta and U.S. Customs and Border Protection (CBP) are launching an optional biometrics-based boarding test at Detroit Metropolitan Airport (DTW). Flyers leaving from DTW gate A36 can choose to board the aircraft using facial recognition technology where they will approach the camera, have their image is captured, receive a confirmation receipt, and then board their flight. If passengers choose not to participate they can board using their boarding pass or mobile phone instead.
"Expanding facial recognition boarding to this international gateway and Delta hub is a natural next step as we hone this boarding option in partnership with CBP," explained Gil West, Delta's COO. "This new phase will allow us to get even more feedback from customers and employees, and is another example of how Delta is delivering innovative experiences customers have come to expect from great brands."
This test is currently underway on one flight daily and the new Delta One Suite with plans for it to become an option for all international flights departing from that gate.
The boarding test at DTW is based on pilot projects that took place at Hartsfield-Jackson Atlanta International Airport and John F. Kennedy Airport using technology supplied by Vision-Box at New York-JFK and NEC at Hartsfield-Jackson.
"CBP has been working with our stakeholders to build a simplified, but secure travel process that not only meets the biometric exit mandate, but also aligns with CBP's and the travel industry's modernization efforts," said John Wagner, deputy executive assistant commissioner at CBP's Office of Field Operations. "We are happy to be working with partners, like Delta, to expand the use of facial biometric technology to create an innovative, more efficient travel experience for passengers."