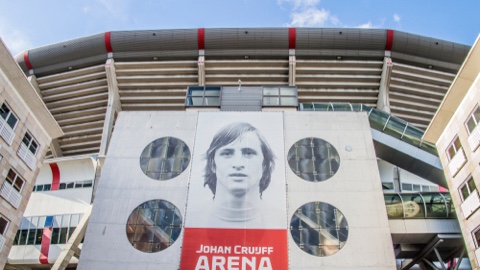 The Johan Cruijff Arena in Amsterdam – home to the Dutch national football team AFC Ajax – is demonstrating the potential use of second-life batteries. Second-life batteries have been removed after a first life in electric vehicles as they are no longer able to supply the power needed for transportation, but still have adequate capacity for other energy storage solutions.
The arena's three megawatt system uses 250 used Nissan Leaf battery packs, 340 first-life battery modules, bidirectional inverters from Eaton, and 4,200 solar panels and can provide up to one hour of full power to the stadium during an event.  This not only provides uninterruptible backup power during highly attended events and reduces the use of diesel generators, but can also help to flatten peaks which occur during concerts and thereby optimize energy use.
"Thanks to this energy storage system, the stadium will be able to use its own sustainable energy more intelligently and, as Amsterdam Energy Arena BV, it can trade in the batteries' available storage capacity. The arena is assured of a considerable amount of power, even during an outage. As a result, the stadium will contribute to a stable Dutch energy grid. The Johan Cruijff Arena is one of the most sustainable stadiums in the world and leads the way in introducing smart innovations like this unique energy storage system," said Henk van Raan, director of innovation at the Johan Cruijff Arena.
The project is a partnership between the soccer team AFC Ajax, carmaker Nissan, power management system vendor Eaton Corp, the Amsterdam Climate and Energy Fund, electric mobility services provider The Mobility House, and BAM, a Dutch construction-services business.