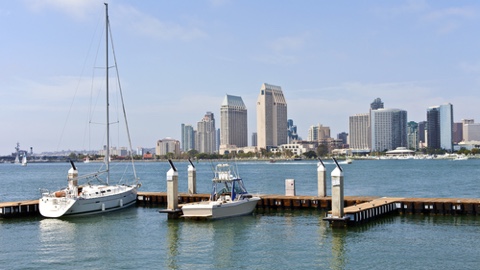 The Port of San Diego has received a $4.9 million US grant from the California Energy Commission (CEC) in support of its solar microgrid project. The microgrid, which is expected to have 700 kW of solar and 700 kW of energy storage, will also be supported by approximately $4.4 million in matching funds that will be provided by the port by paying for the solar energy, preparing a warehouse roof replacement to make way for solar, paying for the energy-efficient lighting retrofit, and contributing staff time. The University of California is contributing more than $200,000 in research-related support.
The microgrid is expected to cut the port's energy costs by 60 percent due to improved efficiencies and advantageous contracting. Importantly, the project will test how well and for how long the microgrid can island from the grid. During emergencies, having a microgrid at the port is expected to benefit the nearby San Diego International Airport and US Department of Defense, which is based at the airport.
"We share the bay front with the Navy and the Coast Guard and are often partners in various capacities — homeland security, law enforcement, environmental efforts and more. We are a Strategic Port, one of 17 in the US. That means our cargo terminals are available for Department of Defense use on 48-hours notice for movement of troops, equipment and supplies," said Renée Yarmy, the port's program manager of energy and sustainability.
During a power outage, the back-up power from the microgrid would allow the terminal to still be able to support tenant and military operations for port-operated facilities. For the airport, the microgrid will support jet fuel storage operations. Currently, jet fuel pumping is powered by the port's electrical distribution terminal and is transported in underground pipes to the airport. In an emergency, if that jet fuel isn't available, airport operations would continue for only a day.
"The port will be evaluating its operation 24 hours a day. We hope to come up with a business case to show how microgrids can benefit the ports all over the world," said Mike Gravely, CEC research program manager.