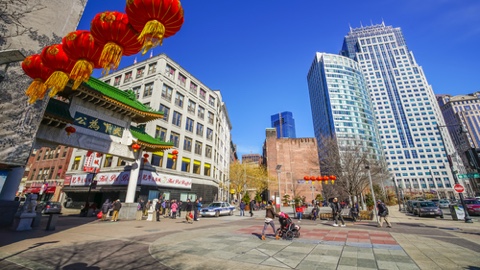 RUN-GJC, a collaborative of nine organizations dedicated to environmental justice and energy democracy, recently announced that it has been awarded two $75,000 grants by the Massachusetts Clean Energy Center. RUN, the technical team organized to support Resilient Urban Neighborhoods, joined forces with GJC, the Green Justice Coalition with social organizing expertise, to explore the idea of reliable, renewable energy in low-income communities in the form of microgrids. The group plans to use the funds to work with the communities in Chelsea and Chinatown in Boston to generate interest and conduct a feasibility assessment.
"RUN-GJC is thrilled to be a recipient of two MassCEC community microgrid feasibility assessment grants totaling $150,000. The grants will fund the work necessary to both conduct the technical analysis and to mobilize community members in Chelsea and Boston's Chinatown, the proposed sites for the microgrids," said Dave Dayton, founder of the RUN team.
Community organizers from GreenRoots Chelsea and the Chinese Progressive Association will conduct surveys and public meetings to hear what benefits the neighborhoods hope to derive from microgrids and to explain to residents how they might work.
The RUN-GJC microgrid concept is unique in that it starts with community leadership in low-to moderate income neighborhoods, which are frequently more vulnerable in emergencies. It seeks to involve the constituents to give them a voice in how they receive their energy. This neighborhood-focused model also provides a basis for local economic development in the form of clean energy jobs, and healthier homes due to cleaner air. The RUN-GJC microgrid concept does not require buildings to be physically connected as is often the case with other microgrids. Using "virtual hardening," the microgrid deploys distributed energy resources that pay for themselves through savings and new revenues. In this instance, the distributed energy resources in question are battery storage, solar panels, energy efficiency, and new technologies in lighting, electric vehicles, and controls, which can capture the value of waste and grid-service markets for local small businesses.