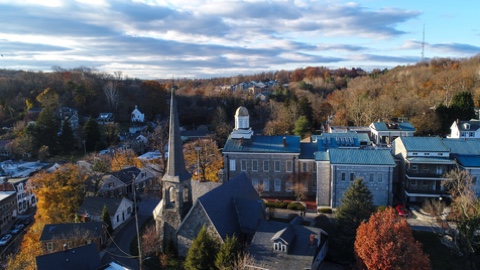 After experiencing a devastating flood in July 2016, Ellicott City in Howard County, Maryland has been chosen by the U.S. Department of Homeland Security for a pilot program to create a better warning system. Howard County is partnering with DHS and the National Weather Service in a program to monitor water levels, using forty-eight gauges placed at 16 sites around the Tiber-Hudson Watershed. Ellicott City is one of three locations nationwide included in the federal $1.5 million pilot program to bring low-cost, internet connected sensors to towns to detect and monitor flooding.
"It's going to provide them faster alerts and warnings for responding to flooding events," said David Alexander, a program director with the Department of Homeland Security. "All that data would then be valuable in terms of understanding and analyzing where you can implement additional mitigation actions and investment in the community to reduce those risks in the future."
The first gauges are scheduled for installation in June, and will be added in phases throughout the summer. Three types of sensors that gather real-time data on the level and velocity of water will be tested, according to Alexander. The gauges will remain in place for six to 12 months and then the county would move the gauges to other locations surrounding the watershed.
Homeland Security will share the data with the county and other federal agencies, including the United States Geological Survey and the National Weather Service. The weather service also will use the data for analysis to help predict what could happen and give people more time to prepare before a storm hits, National Weather Service Warning Coordination Meteorologist Chris Strong said.