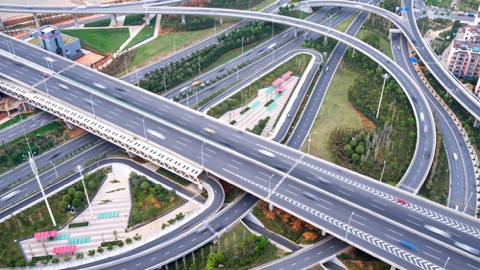 The Kansas Department of Transportation (KDOT) has contracted the Kirkham Michael engineering firm to participate in a pilot project aimed at determining how drones could be used in future road design work. The pilot project involves having KDOT crews doing conventional survey work, then comparing it with the findings of the drone. Using the programmable eBee senseFly drone, a series of still photos will be "stitched" together in two-dimensional imagery that would then be printed in a three-dimensional format, showing the contours of the terrain.
Wayne Scritchfield, a municipal engineer for Kirkham Michael, said there were a number of advantages to using drones to do survey work for road projects.
"With this technology," Scritchfield said, "we don't have to put people or equipment in the roadway, so there's a huge safety advantage for both the driving public and the workers.We'll have the drone up about an hour and a half to two hours. It would take weeks to do it conventionally."
Scritchfield explained that the technology that the eBee by senseFly has is specifically designed for land mapping.
"It's a fixed-wing, aerial drone," Scritchfield said. "It flies about 30 miles per hour and it will take still photography from an elevation of about 350 feet."
KDOT recently partnered with AirMap to deploy Unmanned Traffic Management (UTM) technology across the state of Kansas. Unmanned Traffic Management, or UTM, is the technological infrastructure that facilitates data exchange and air traffic control for drones. The KDOT-AirMap partnership is expected to foster a thriving drone economy with the potential to contribute billions in economic impact and create thousands of jobs in the state.
"Drones are already contributing to the Kansas economy as they start to be employed by farmers, ranchers, realtors, first responders and our public agencies," said Bob Brock, Director of Unmanned Aerial Systems (UAS) and Deputy Director of Aviation at the Kansas Department of Transportation. "By partnering with AirMap, we ensure that the state of Kansas is a perfect place to fly drones and build strong UAS companies. Kansas is open for business."