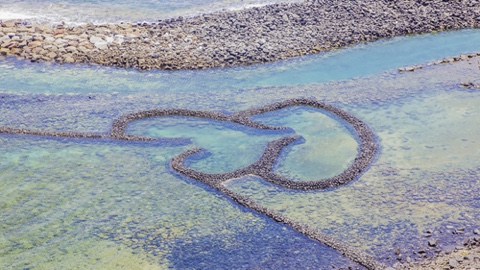 Taiwan's first large scale smart microgrid on any of Taiwan's outlying islands, the Penghu Chimei Smart Microgrid, is now in operation in the Chimei township of Penghu Island. The new microgrid includes a photovoltaic system, which supplies usable solar power, and includes an energy storage system and diesel generators.
The Taiwan Power Company and Ministry of Science and Technology collaborated under an agreement of the Taiwan National Energy Program, Phase II (NEP – II) to initially install a 155 kilowatts per hour (kWp) PV system. The system was then upgraded to a 200 kWp capacity with a 300 kWp energy storage system. Taipower plans to add wind power facilities to the Penghu Smart Grid in 2019  to generate an additional 600 kilowatts of power as well as further expand the PV system capacity to 1,200 kWp and the energy storage system to 2,000 kWp.
According to Taipower, incorporating renewables into the mix through advanced energy management practices will ensure a stable electricity supply and reduce costs. The long-term goal is to power Qimei entirely by sustainable sources during off-peak periods and roll out the initiative to other islands in Penghu and remote parts of Taiwan. The approximately 4,000 residents of Qimei use 7.8 million kilowatt-hours of electricity per year, with the bulk produced by diesel generators. After planned microgrid expansion and additional green energy production facilities come on line next year, the annual capacity derived from renewables is expected to be 3.37 million KWh, or 43 percent of the island's total power needs. It is estimated that the smart microgrid will save the island an estimated NT$5 million a year ($167,000).