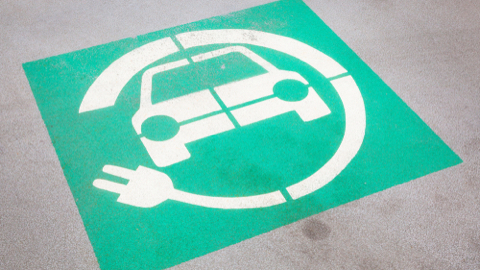 Utah State University's Electric Vehicle and Roadway Research Facility & Test Track (EVR) recently installed three new electric vehicle chargers made by a California-based company ChargePoint – courtesy of the Utah Sustainable Transportation and Energy Plan initiative, administered by Rocky Mountain Power. The EVR also received solar panels that will help power the track that allows for wireless power transfer and testing of electric vehicles.
The public-private partnership between Rocky Mountain Power and USU came about thanks to state government efforts.
"Traditionally, utilities don't do research," said James Campbell, legislative policy adviser for Rocky Mountain Power. "So what we did was, because of massive transformation that's happening in technology, especially with clean energy, and lots of other areas, there was legislation where the legislature set the policy for the utilities to actually go into these areas."
The EVR facility houses another USU initiative, Sustainable Electrified Transportation Center, (SELECT), which brings industry and academia together to study electric vehicles.
"We're focused on reducing emissions, improving air quality, doing this cost-effectively and looking at a variety of technologies to accomplish these goals," Regan Zane, a USU professor and founder of SELECT, said. "The collaborative agreement and relationship we have here with Rocky Mountain Power marks an important milestone for EVR, for SELECT."
USU has also been provided funds for a number of initiatives associated with Rocky Mountain Power, including Live Electric.
"The Live Electric relationship we have with USU is tied to a Department of Energy contract," Zane said. "Here, we're focused on (electric vehicle) adoption in the state of Utah. in particular with growing the electric vehicle charging infrastructure in Utah."