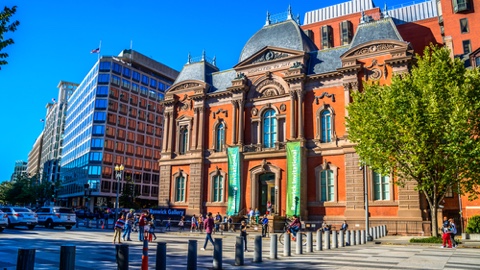 Intel and the Smithsonian American Art Museum (SAAM) have partnered to create a new immersive virtual reality (VR) experience aimed at transforming the future of education and the museum experience. The new VR experience creates the opportunity for those who may not be able to visit in person to see the collections up close, within virtual space.
Intel, working with Framestore, VALIS Studios, 8i, and xRez Studio, used LiDAR scan to provide the groundwork, which was then combined with photogrammetry to build a high level of detail. Photogrammetry is the science of making measurements from photographs.
John Bonini, vice president and general manager, VR, Gaming and Esports at Intel Corporation said, "Virtual reality will bring about cutting-edge computing experiences and accelerate new possibilities for how people will explore and interact with the world around them. As the technology evolves, immersive museum experiences will become the norm. Bridging physical and digital worlds to study American art in classrooms around the globe is just a first step in exploring what is possible when we combine the Smithsonian American Art Museum's passion for education with Intel's innovation."
The free "WONDER 360" app for Apple and Android mobile devices that captures the Renwick Gallery's WONDER exhibition can be downloaded here.
"'Renwick Gallery WONDER 360' is our first major experiment with VR, and we're excited to keep exploring the potential of this emerging technology," said Sara Snyder, chief of the museum's media and technology office. "The app captures the 'WONDER' exhibition as a moment in time and lets you carry the beauty of that experience around in your pocket, anywhere in the world. It represents a whole new way of sharing art with the public."