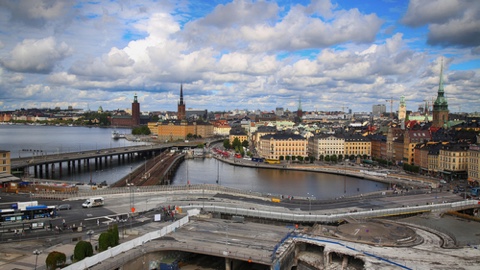 The Swedish Transport Administration recently completed part of a road near Stockholm that charges electric vehicles as they drive on it. The goal of the project is to generate knowledge, experience, and decision data that will aid in the creation of a platform for the electrification of larger transport routes in Sweden.
The eRoadArlanda project uses conductive technology that allows electricity to be supplied  from conductors embedded in the road. Energy is transferred from a rail in the road to the vehicle, using a movable arm. The arm detects the location of the rail in the road and as long as the vehicle is above the rail, the contact will be in a lowered position. When overtaking, the contact is automatically raised.
eRoadArlanda opted to use a conductive feed from the road for a number of reasons:
existing infrastructure can be used – up to one kilometer of rail can be installed per hour and interruptions can be minimized;
a conductive feed from below works for all types of transport, including both cars and larger vehicles, due to the shorter distance between the vehicle and contact point; and,
rails embedded in the road will cause far less obstruction to the driver's field of vision, compared with roadside poles for the suspension of overhead cables.
The five-year project involves a collaboration with the Swedish Transport Administration, the Swedish Energy Agency, Vinnova, and Swedish industry. The vehicle used in the test project is an 18-ton truck that will be carrying goods for PostNord. This climate-smart logistics solution has PostNord's Green Flight airplane landing at Arlanda, the freight being transported by electrified road to Rosersberg, processed in a green building terminal with one of Sweden's largest solar parks, and then loaded onto trains directly from the terminal.