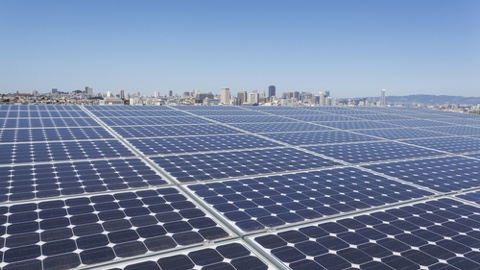 As part of the Solar Market Pathways project from the U.S. Department of Energy, San Francisco and New York have completed in-depth feasibility studies on how to power critical facilities like police and fire stations, hospitals and shelters using "resilient solar." The combination of solar and storage offers a number of benefits over solar alone or traditional diesel backup power systems. They can island themselves, providing power during extended grid outages and avoid the risk of running out of fuel for gas or diesel generators.
San Francisco's Department of the Environment (SFE) studied the use of solar and storage systems that would serve critical loads –  the absolutely necessary items that would require power – in the case of an outage. The project, called "Solar + Storage for Resiliency", includes a road map and a best practices guide, with lessons for other municipalities interested in energy resilience. It also includes SolarResilient, a free, web-based tool that estimates both the solar and battery energy storage system size and physical space that would be needed to meet the critical load of a facility.
"For many resource-strapped cities, it can be an expensive and time-consuming process of reviews, approvals and RFIs just to get an idea whether such systems are suitable. The tool eliminates that step," said Jessica Tse, distributed energy resource coordinator for SFE.
According to Sustainable CUNY's NYC Solar Ombudsman, when Hurricane Sandy hit five years ago, the 672 solar arrays in New York City at that time were unable to provide power during the outage, and the CUNY campus faced fuel shortages that affected vehicles, backup generators and buildings.
"Solar could have been used to help power critical loads across the five boroughs on the sunny days during the blackout — and storage could have helped around the clock," said Tria Case, university director of sustainability and energy conservation for CUNY. "We are working on a streamlined path for storage as well, so New Yorkers have more resilient energy options."
Sustainable CUNY has released the New York City Resilient Solar Roadmap — a five- to seven-year strategic plan addressing issues around hardware, software, economics and policy.