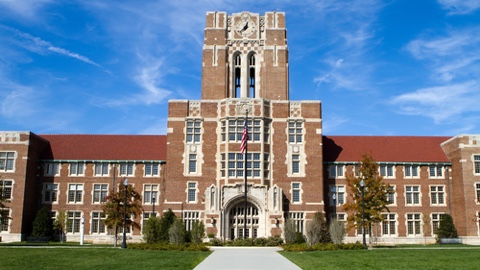 The University of Tennessee Health Science Center (UTHSC) will launch its new $39.7 million, 45,000-square-foot building in May of 2018. The Center for Healthcare Improvement and Patient Simulation (CHIPS) has been under construction since 2015 and is the only one of its kind in the state. Students from UTHSC's six colleges – including dentistry, graduate health sciences, health professions, nursing, medicine and pharmacy will train together in simulation settings. They will also have the opportunity to be exposed to real-world patient interaction, employing "standardized patients," actors who've been trained to portray patients and to respond in certain ways to certain cues from the students.
"This will be a new place for us to change the way we educate our students on campus – for experiential learning, having our students participate in learning instead of sitting in their seats and listening to a lecture," said Dr. Chad Epps, executive director of the CHIPS facility. "A lot of what we'll do in this building is also things that I call non-technical skills. Those would be things like how we learn to work together and communicate effectively as a team. So we'll have medical students in with nursing students, bringing students in together so they'll have a better understanding about each others' profession and how they all contribute to the health care team. So hopefully our students graduate prepared to be an effective team member as they go into the health-care environment."
The facility includes five multipurpose classrooms where students go into after participating in a simulated exercise for debriefing – going over what was done well and what they can do better. There's a different simulation training focus on each floor of the building. The first floor includes bed-skill stations as well as a virtual reality room, where students can practice things like ultrasound procedures and robotic surgeries, as well as a simulated home environment, where students can practice delivering in-home patient care. The second floor houses a simulated acute-care setting. The standardized patient program comprises the third floor. There, a community pharmacy has been set up, and it also includes 24 patient exam rooms.
Adds Epps, "This building is a message to the community that we're doing all we can to improve the way we deliver health care."