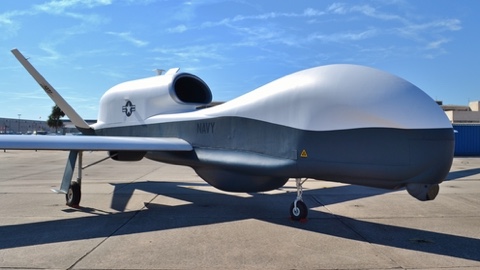 The U.S. Navy is preparing to deploy two MQ-4C Tritons – high-altitude surveillance drones – to Guam this summer. Built by Northrop Grumman, the 131-foot-wingspan UAV's utilize electro-optical sensors and radar capable of tracking maritime targets from as high as 60,000 feet and and comparing tracks to automated identification systems on ships. Data is sent back to ground stations at Naval Station Mayport, Florida, or Naval Air Station Whidbey Island, Washington, or to nearby P-8A Poseidon anti-submarine warfare aircraft.
"One of the main reasons that the Navy decided to fund Triton was to have that teaming arrangement, to be able to communicate back and forth between P-8s and the Triton aircraft. One of the primary missions of P-8 is to do the anti-submarine warfare and ISR, not necessarily things you want to do at the same time," said Capt. Dan Mackin, the Navy's Triton program manager.
It is expected that deployment will allow the P-8 military aircraft to focus more on the submarine hunting aspect of their mission, leaving other Intelligence, Surveillance and Reconnaissance (ISR) missions to the drones.
"You want to give the P-8 the ability to perform the anti-submarine warfare mission while trying to high-altitude ISR mission," Mackin said. "One of the things we'll do is pass information back and forth between the two aircraft and the situational awareness of the fleet will be enhanced. Both aircraft have the ability to do chat, so both crews will be able to communicate back and forth."
Once the Triton reaches its initial operational capability in 2021, the Navy plans to add two additional aircraft to the Pacific arena, making up one 24-hour, seven-day orbit.