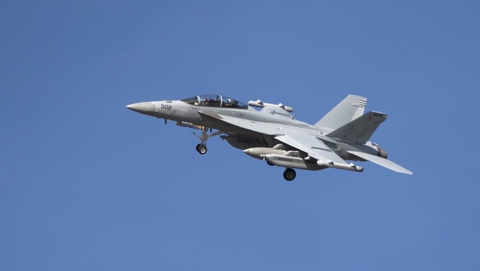 Defense technology companies Lockheed Martin and Cobham are partnering to bid for the US Navy's Next Generation Jammer Low Band (NGJ-LB) competition. The NGJ-LB  system is to be integrated onboard the service's Boeing-built EA-18 Growler electronic warfare aircraft, replacing the current ALQ-99 low band pods. The NGJ-LB system is expected to provide significantly greater electronic attack capabilities in the lower frequency bands of the electromagnetic spectrum against modern threats.
"The Lockheed Martin and Cobham team will leverage expertise in both companies to offer the US Navy a critically important system with increased capability and reduced risk," said Joe Ottaviano, director of electronic warfare at Lockheed Martin. "Our team is confident we can meet the Navy's need for improved jamming capabilities with a scalable, open architecture design that balances capabilities with size, weight and power constraints."
Previously, Cobham has provided development support for the Navy's ALQ-99 Low Band Transmitter/Antenna Group program and Lockheed has experience in the development of naval and airborne EW platforms.
Jim Barber, senior VP of Cobham integrated electronic solutions, a business unit of Cobham Advanced Electronic Solutions, said: "Cobham has continued to invest in state-of-the-art, next generation airborne electronic attack transmitter capabilities for the EA-18G community and looks forward to continuing to deliver reliable and scalable solutions well into the future. Our strong partnership with Lockheed Martin on programs such as AOEW and the Surface Electronic Warfare Improvement Program Block 2, along with our collective capabilities and heritage with the EW community will provide the best value for the US Navy."