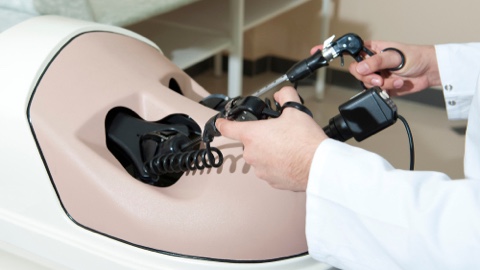 The Tripler Army Medical Center (TAMC) recently held its first "Simulation Training for Operational Medicine Providers," (STOMP) course at the TAMC Medical Simulation Center. The course offers graduating physician residents and transitional year interns an opportunity to meet with subject matter experts from the TAMC Emergency Department, Family Medicine, General Surgery, Musculoskeletal, Neurosurgery, Obstetrics & Gynecology, Operational Medicine, Orthopedics and Urology Departments to learn, practice, and demonstrate patient care skills through the use of simulation training. The center has a variety of simulators from simple task trainers all the way through the high fidelity simulators that allow training on many skills.
"The STOMP course is important for residents entering operational medicine," Capt. McHuy McCoy, TAMC staff physician and squadron flight surgeon at 2-6th Cavalry Squadron, 25th Combat Aviation Brigade, 25th Infantry Division said. "It ensures that new physicians have a core of knowledge essential for treating patients in the context of deployability; and (demonstrates) how our care affects a unit's readiness. I wish I had something like this before I left for operational medicine and I am glad to be a part of such an incredible pilot program!"
Tripler Army Medical Center's Simulation Center recently achieved the Society for Simulation in Healthcare, or SSH, accreditation. TAMC is the second simulation center in the Department of Defense to achieve this accreditation and the only one in Hawaii and the Pacific region. It was also recently awarded the American College of Surgeons (ACS) accreditation, showing that the center is meeting proven national standards in simulation training education.
"By attaining accreditation, the center at TAMC ensures our providers undergo training in a simulated, standardized and safe manner in order to optimize their skills before delivering patient care," Col. Stanley Zagorski, chief, General Surgery Services, TAMC, director of surgical simulation said. "Currently our training center's primary mission is to support graduate medical education."