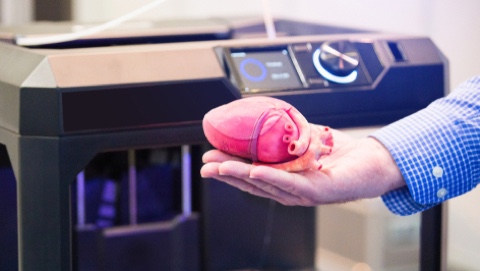 An integrative arts course offered by the Information Technology Services (ITS) department at Penn State Fayette is incorporating the use of virtual reality (VR) technology to design objects for biomedical applications for the purpose of 3D printing.
"Instead of sitting at a computer and dragging a mouse, students can render an object in virtual reality and export it for 3D printing," said Jeff Medvec, ITS manager.
A Vive VR System, including a headset and two controllers, coupled with Google Blocks – a free modeling program – allow users to design objects in the third dimension with six simple tools: shape, stroke, paint, modify, grab and erase.
"The advantages to introducing VR to the classroom are increased student interest, engagement and commitment," said assistant teaching professor of nursing, Valeria Vanderhoff. "My hope is that this venue encourages students to explore and connect to their personal creative sides. Literally, the sky's the limit."
Vanderhoff plans to use VR in the future to enhance student study techniques when reviewing difficult concepts in nursing, such as anatomy and physiology. Associate Professor of Engineering, Nate Bohna – who team teaches the course with Vanderhoff – hopes to incorporate VR in his engineering courses to explore 3D vectors in a more engaging way.
The new technology does present some challenges in teaching, however. The setup requires a contained area for users to move around within. Also, with one set of equipment, a class of 20 students must book windows of time with faculty assistance in order to experiment with the technology and complete projects.