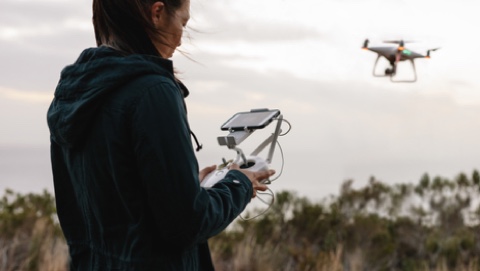 SUNY Polytechnic Institute's Utica, New York campus will host an all-day drone competition on April 15, 2018  that will be open to the public. Teams of two to five members will operate their drones within a 30 foot by 60 foot netted drone arena. The theme of the competition is "Rig Rescue" – where a malfunction has led to a fire on an offshore oil platform. The rescue teams must navigate through dangerous waters to help secure the facility and retrieve platform workers.
Rig Rescue drone teams can attempt to:
navigate an air corridor and obstacles;
assess the situation and take photos of key issues;
activate a fire suppression system;
land on the oil rig platform in one of two locations;
retrieve a hard drive within the rig structure;
secure a crane;
toss out flotation devices to those in the water;
rescue survivors in the water; and,
return to a moving rescue ship.
Participation is open to ages eleven and up and allows for use of a wide spectrum of drones. The event is being hosted by the SUNY Polytechnic Institute Academy of Model Aeronautics University Model Aviation Student Club and the CNY Drones Model Student Aviation Club. SUNY Polytechnic students and CNY Drones mentors are available to work with teams upon request. CNY Drones is Central New York's drone community promoting STEM education and safety awareness via interactive demonstrations, networking, clinics, introductory flying sessions, build & fly workshops, mentoring, team competitions, tech-meets, races, and a drone enthusiast information hub.