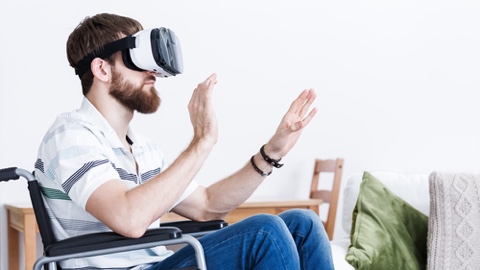 A recent paper published in the journal Disability and Rehabilitation examines the potential benefits of using virtual reality (VR) to help paralyzed individuals improve their mobility. Using feedback from both patients and providers, researchers created an immersive, VR environment for potentially training spinal cord injury (SCI) patients in electric wheelchair use. The VR training consisted of an Oculus Rift headset working with a LiNX joystick to emulate wheelchair controls. They recruited SCI patients who were experienced in wheelchair use, and healthcare professionals with SCI rehabilitation experience and placed them in the VR environment for a 20-30 minute session.
A thematic analysis of participant feedback focused on four key themes: realism, wheelchair training system use, overcoming resistance to technology, and working outside of the rehabilitation environment. Participants stated that the realism of the VR system was a strong factor for further use. They recommended that clinicians try the system first before using it on patients to help mitigate potential resistance the new technology. Users noted that an advantage of the VR system was the ability to virtually challenge themselves in scenarios not found within the walls of the rehabilitation hospital.
The paper concluded that The Oculus Rift Wheelchair Training System has the potential to provide a virtual rehabilitation setting which could allow wheelchair users to learn valuable community wheelchair use in a safe environment. Nausea appears to be a side effect of the system, which will need to be resolved before this can be a viable clinical tool.