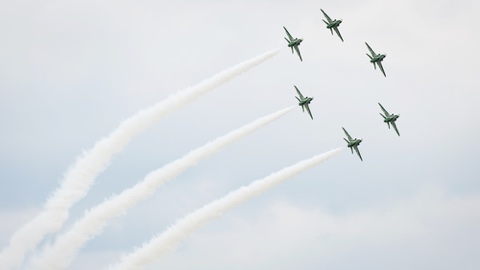 The Kingdom of Saudi Arabia has contracted Northrop Grumman Corp. to deliver Joint Threat Emitter (JTE) support services. The indefinite-delivery/indefinite-quantity (IDIQ) contract – valued at $75 million US – was awarded by the U.S. Air Force Life Cycle Management Center located at Hill Air Force Base, Utah. The contract work will be performed in Buffalo, New York and the Kingdom of Saudi Arabia, and is expected to be completed by Sept. 21, 2023.
"The JTE provides the best electronic warfare simulation capability available today," said Joe Downie, site director of Northrop Grumman's Buffalo-based Amherst Systems business unit.
JTE is a mobile air defense threat simulator that enables aircrews to train in threat environments matching actual combat conditions. Each JTE can simulate up to six threat systems and multiple JTEs can be integrated and controlled in a coordinated manner to simulate hostile Integrated Air Defense Systems (IADS). The JTE is composed of three subsystems: a Threat Emitter Unit which is designed to utilize several full Effective Radiated Power kits that are interchangeable; a Command and Control Unit that controls up to twelve different threat emitter units and serves as the overall system command and control center; and a Remote Power Unit (RPU) used when commercial power is unavailable.
"Highly advanced and ready for the systems of today and tomorrow, JTE gives the Kingdom of Saudi Arabia an important capability for preparing its aircrews for operation in the modern electromagnetic spectrum environment," said Walid Abukhaled, chief executive, Northrop Grumman Middle East.
Northrop Grumman has had a partnership with the Kingdom of Saudi Arabia for more than three decades, when it first sold the F-5 Tiger tactical fighter jet to the Royal Saudi Air Force (RSAF).