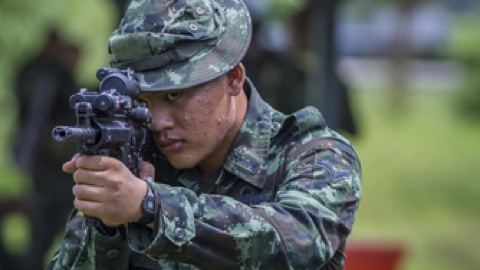 The US Army's 39th Infantry Regiment has reintroduced the Multiple Integrated Laser Engagement System (MILES) into the basic combat training cycle. MILES is designed to simulate both the firing capabilities and the vulnerability of dismounted troops, tactical vehicles and combat vehicles and to objectively assess weapon effects during training.
Soldiers "have to understand cause and effect during training," said U.S. Army Lt. Col. Corey Hemingway, the Orlando-based MILES program manager. "That way, when they get to actual combat, they understand the decision-making process. They understand how to engage a target and how to maneuver to complete the mission."
MILES provides tactical engagement simulation for direct fire force-on-force training using eye safe laser "bullets". Each individual and vehicle in the training exercise has a detection system to sense hits and perform casualty assessment. Laser transmitters are attached to each individual and vehicle weapon system and accurately replicate actual ranges and lethality of the specific weapon systems. Audio cues are used to let trainees know when simulated rounds are coming close to their position and alerts advise them when they have been taken off the battlefield. In keeping with the aim of providing as much realism as possible, the weapons recoil when fired and produce the smell of gunpowder.. The MILES modular design allows it to accommodate new weapons, ammunition, vulnerabilities and vehicle types and the system interfaces with instruments at both home stations and Combat Training Centers.
Cpt Francisco Idarraga, company commander of Bravo Company, 4th Battalion, 39th Infantry Regiment, said, "This is a great opportunity to start testing all of the technology that we have. We're trying to see if they're applying all of their knowledge, as far as moving in teams, which is very important while you are in the field."