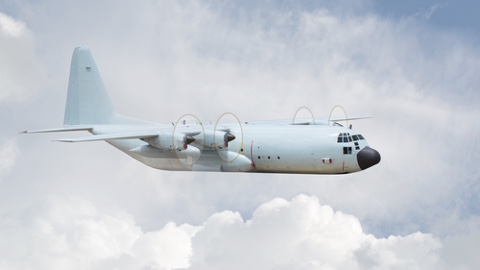 The Defense Advanced Research Project Agency (DARPA) plans to use a C-130 aircraft to demonstrate the launch and recovery of low-cost, reusable Unmanned Aircraft Systems (UAS) in mid-air in 2019 – a project named The Gremlins program. Once dispatched, the drones would be outfitted with different payloads in order to accomplish an assortment of missions, to include ISR, electronic warfare, and signals intelligence. Each drone would be capable of remaining in flight for one hour at a range of 300 nautical miles while carrying a 60-pound payload.
"When the [drones] complete their mission, a C-130 transport aircraft would retrieve them in the air and carry them home, where ground crews would prepare them for their next use within 24 hours," according to DARPA.
General Atomics Aeronautical Systems, Inc. (GA‑ASI), a manufacturer of Remotely Piloted Aircraft (RPA) systems, radars, and electro-optic and related mission systems solutions continues to partner with DARPA for Phase 2 of the Gremlins program. GA-ASI was awarded a contract for Phase 1 – which was largely was conceptual in nature – in March of 2016. Phase 2 aims to mature the design and perform in-flight risk reduction testing for the C-130-based recovery system. Activities will include Preliminary Design Review (PDR) for the aircraft and recovery system, ground testing to validate key technologies, and flight test to demonstrate safety and recovery system performance.
"GA-ASI is committed to the development of an unmanned distributed sensing and targeting system to support tomorrow's warfighter," said David R. Alexander, president, Aircraft Systems, GA-ASI. "At the same time, we see the potential for using this technology on our own Predator® B/MQ-9 Reaper® RPA to offer our customers new mission capabilities."