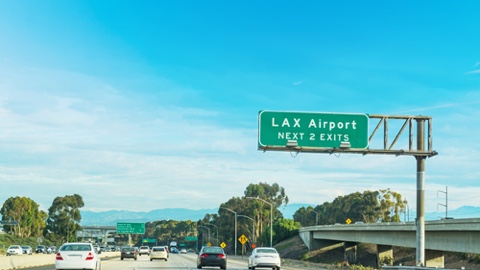 The Transportation Security Administration (TSA) has recently begun a three-week-long trial using facial recognition to compare travelers' faces with the face on their electronic passports at Los Angeles International Airport (LAX) – a paperless biometric self-boarding solution using technology developed by Vision Box. The program has the goal of not only at making passenger security and customs lines more efficient, but also at more quickly verifying passenger identities by comparing just-captured fingerprints and facial images with verified and digitized records.
Travelers scan their paper or digital boarding passes at their electronic gate. The scanner compares the name on the document with the name on the boarding pass and if they are a positive match, the system then pulls the traveler's photo from the chip in their electronic passport and compares that image to what's captured by the system's real-time facial recognition camera. Aa positive match opens the gates and lets a passenger board. If the facial recognition match is negative, an attendant will double check the boarding documents.
"This industry-first deployment of innovative solutions from the US Customs and Border Protection and Vision-Box, shows the amazing potential of using biometrics to speed up the boarding process while maintaining safety and security. We have been very impressed with the results thus far, and love to see the passengers' excitement at being some of the first in the world to use facial recognition," says Justin Erbacci, chief innovation and technology officer at LAX, airport oversight and operations department.
The TSA and Customs and Border Protection (CBP) are conducting a number of biometric identification trials across the U.S. According to Acting Customs and Border Commissioner Kevin McAleenan, biometric exit technology could be installed in all major airports across the U.S. within four years.
"Beginning in early 2018, CBP is working to fully scale out air biometric exit and will spend 2018 working with stakeholders to get commitment to deploy biometric exit technology," McAleenan said.