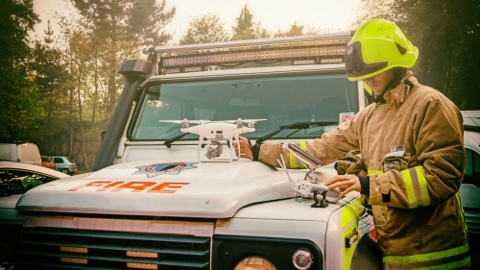 Drone technology is increasingly being used by first responders such as firefighters, lifeguards and mountain rescue teams. Drones can often be deployed quicker than helicopters and get closer to the terrain to search for missing people. They are also significantly cheaper to buy and operate than a helicopter. They can respond to natural disasters and operate in dangerous situations without putting lifesavers at risk.
Kevin On, director of communications at Dà-Jiāng Innovations Science and Technology (DJI) – the world's largest civilian drone maker – pointed out that many organizations are using larger drones with added drop boxes to deploy life jackets or bottles of water. "By attaching a thermal imaging camera to our drones, search and rescue teams are able to identify people that are lost when hiking in the wild or in difficult terrain in remote areas," he said.
Last September,  the American Red Cross partnered with drone maker CyPhy Works and the UPS Foundation to survey damage caused by Hurricane Harvey. The CyPhy Works Persistent Aerial Reconnaissance and Communications (PARC™) system uses a tethered drone connected to a power source so that it was able to stay airborne for days at a time to assess flood damage and direct aid to areas in need. Its 30X zoom camera provides tens of miles of visibility and high-image recognition tools and online comparison with previous imagery help identify areas with the most damage.
Professor Michael Blumenstein, the Head of the School of Software in the Faculty of Engineering and Information Technology at the University of Technology Sydney (UTS), is developing an algorithm to automatically detect sharks from the video footage streamed from the Westpac Little Ripper Lifesaver UAVs. When the UAV detects a large shark near people in the water, the drone can use its siren to alert them to danger or send text messages to lifeguards on the beach.
"The algorithm we have developed learns from experience by analyzing lots of video footage of sharks in the water. It has an accuracy rate of up to 90 percent," says Blumenstein.