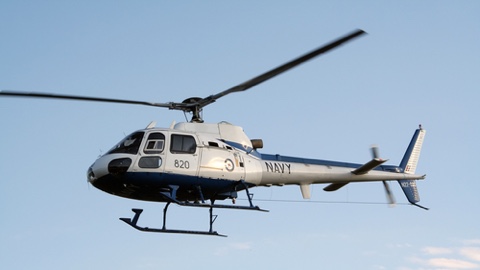 Boeing's Helicopter Aircrew Training System (HATS) program – jointly run by The Royal Australian Navy (RAN) and the Australian Army – has recently begun training a rotary wing crew at their new joint helicopter school. The program provides a suite of simulator training devices as well as initial helicopter conversion training for air crewmen, navy and army pilots, as well as sensor operators and navy aviation warfare officers.
Lt Cmdr Tony Hammond, HATS Pilot Instructor, said, "The array of systems embedded in the new EC-135 T2 means that we are going to be able to much better prepare aircrew for the more complicated operational helicopters that they will then transition to."
The school has been under development for the last three years and will train up to will train up to 130 students each year – including pilots, aviation warfare officers, air crewmen and sensor operators, in addition to qualified aircrew returning for instructor training. The first 37 future pilots, aircrew and aviation warfare officers have started the 26-week training course at the new facility at HMAS Albatross. The HATS program training assets includes 15 Airbus Helicopters EC135 T2 helicopters and three Thales EC135 Reality H Full Flight Simulators.
Cmdr Chris Smallhorn of the RAN, said, "The ongoing partnership with Boeing Defense Australia ensures our aviators receive the best training we can offer to do their job. Our navy and army aviators operate some of the most advanced equipment in the world, which is now matched by training facilities that combine full motion simulation, virtual reality and airborne instruction in a purpose built school house. Maritime, littoral and land warfare is a demanding vocation, and mission success often relies on the aviator. The Helicopter Aircrew Training System will ensure they are ready."