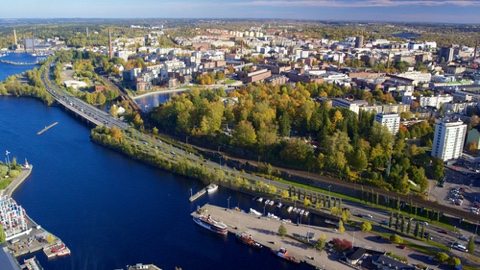 Swedish defense and security company Saab recently opened the Saab Technology Center (STC) in Tampere, Finland, that includes a unit focused on electronic warfare systems which will support the production of a new family of Electronic Warfare (EW) self-protection systems called Arexis. The company plans to invest roughly 50–70 million Euro in developing the center over the next five years and ultimately recruit about 100 employees to supplement the current group of 12 already employed at the center.
"Finland is a high-tech country and an important partner for Saab. The long-term goal is that STC in Tampere will be an integral part of Saab's product development and production," says Håkan Buskhe, Saab's president and CEO.
One version of Arexis is the on-board EW suite in the new version of the Gripen fighter, Gripen E/F. The core technologies in the system are ultra wideband digital receivers and DRFMs (Digital Radio Frequency Memory) devices, gallium nitride solid state active electronically scanned array jammer transmitters, and interferometric direction finding systems. For specific EW applications, these technologies are adapted to the lower frequency ranges that are required to jam modern anti-stealth air defense systems.
"In February 2017, we established a comprehensive and long-term research partnership with Aalto University. As a natural continuation, we are now expanding the envelope from research to development of cutting-edge technology. In addition to job creation, this will also support export opportunities as part of Saab's global business network," says Anders Gardberg, managing director of Saab's country unit Finland.