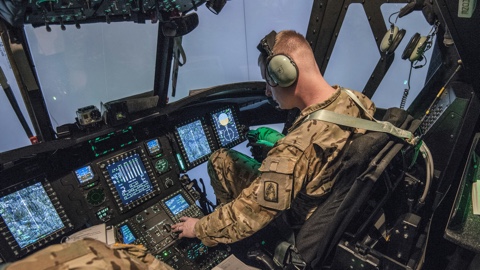 The Naval Aviation Training Systems Program Office is incorporating virtual reality technology as it develops new flight simulation trainers for the F/A-18 Super Hornet, TH-57 Sea Ranger training helicopter and T-45 Goshawk jet trainer.
Two TH-57 part task trainers (PTT) will be used to help make new trainees more comfortable before their first low-level familiarization flights. "What we know is that low-level flights for students who are beginning their navy training in TH-57s are quite overwhelming," Chris Foster, the program office's lead for aviation warfare training development, said. "It's very difficult to develop the sight picture that you need and to do it in a very quick way when things move much faster on those first few flights, so there's very little learning that's actually taking place."
The T-45 systems will also have two PTTs, using VR as well as augmented reality visual system technology that improves fidelity and cuts down on the high life cycle cost of the T-45's current dome simulators. The PTTs will include actual operation flight trainer T-45s, where the trainee will sit while outfitted with VR goggles.
The F/A-18 project will be comprised of two networked Deployable Mission Rehearsal Trainers that will be deployable with a much smaller footprint than the platform's current, dome-based flight simulators.
It's thought that spatial disorientation and loss of situational awareness are the main causes in many flight mishaps, yet pilot and crew training with these issues has changed little over the years. "What we need is the capability to quickly and efficiently recreate mishaps based on information that we can pull from mishap reports and other data sources, and use that data to update training and provide a more immersive training environment for students," said Foster. "To that end, VR is regarded as a way to provide that higher level of immersion."