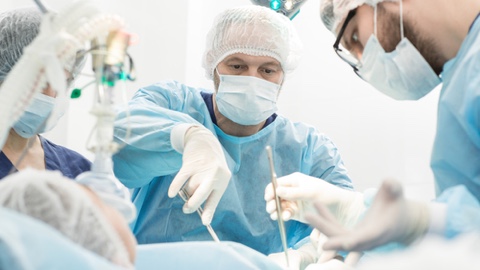 Revinax – a French company that provides virtual reality tutorials for medical and surgical applications  – has begun using the mixed reality (MR) device – Microsoft HoloLens – to deliver demonstrations to training surgeons right in the middle of the surgical procedure, recorded earlier from the same point of view by instructors. The HoloLens can also deliver access to CT scans and 3D reconstructions of the area under operation.
"This is the perfect tool for any surgery. As a teaching surgeon, I can create my own tutorials to deliver them to students before and, now also, during surgery. They can use the tutorial as a reminder during the operation," said Dr. Nicolas Lonjon, neurosurgeon and teacher at the Montpellier University Hospital. "The patient imagery and planning feature also avoid unnecessary distractions: we now no longer need to check these data on the computer during the operation."
In traditional training demonstrations students observe from a certain distance, which does not enable them to see the operation from the same perspective and with the same precision as the surgeon. As a consequence, high-precision, minute gestures may be missed, which may negatively impact the training outcome. With Mixed Reality training, students can now observe the entire procedure from the perspective of the performing surgeon.  Students can also be trained in areas geographically distant from tutors, allowing specialists to demonstrate their techniques and skills globally.
"When it comes to surgery, a certain amount of 'watch and learn' will always be necessary. Virtual reality and mixed reality provide new opportunities to efficiently train surgeons by giving them a direct view of the operating site. Students can now observe the entire procedure from the perspective of the performing surgeon." said Dr. Maxime Ros, neurosurgeon and co-founder of Revinax.